OUTDOOR WRITER
RICHARD BEAN, 72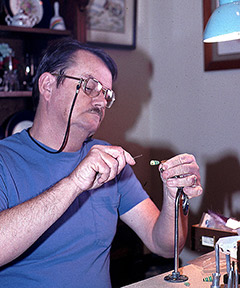 Richard Bean, who parlayed his lifelong love of fly-fishing and the outdoors into a free-lance magazine writing career, died of heart disease and other natural causes in late January, said his wife, Barbara. He was 72.
Bean's credits included California Fly Fisher, Field & Stream, Outdoor Life, Fly Fisherman, Fly Fish America, and Southwest Fly Fisher, plus a number of conventional tackle magazines, including Aqua-Field Publications, Bassmaster, Bassin' Magazine, Bass West, Angler, Game & Fish, Black Bass Journal, and California Game & Fish. He was the Warmwater Columnist for California Fly Fisher Magazine.
A native Californian, he was born in Hemet.
While he wrote on a number of subjects including hunting – both big game and upland birds – and all kinds of fishing, he preferred fly-fishing for warm water species. In 2002, his book "Fly Fishing Southern California's Lakes & Streams" was published by Aguabonita Books; "Fly-Fishing for Bass in the West" was self-published in 2007.
According to his widow Barbara, "Rick [Richard] and I, Jim and Becky Matthews, Charlie Cole and quite a few other people from the old Tri City Fly Fishers started Deep Creek Fly Fishers. We were tired of not having a fishing club to meet our old friends and get new people involved in fly fishing. Rick also helped start Hi Desert Fly Fishers. He loved fly-fishing over all kinds of fishing."
Prior to getting into the outdoor field, he was an automotive magazine editor, and wrote about high performance hot rods, racing cars and motorcycles, plus soft-cover books on automotive and motorcycle tune-up and citizens band radio; he was co-author of a correspondence course on motorcycle maintenance.
Bean was a long time member of the International Federation of Fly Fishers, Hi-Desert Fly Fishers and Deep Creek Fly Fishers.
Viewing is February 05, 6 pm with services to follow at 7 pm at Kern/Hesperia Mortuary 16120 Main Street, Hesperia. Burial is February 06 10 am, Riverside National Cemetery.